Amateur Sleuth Recovers Pivotal 19th Century Archive:
Reunites Winslow Homer with His Prophesy and His Lament

The Ambiguous Gender of Homer's Mystery Woman Redressed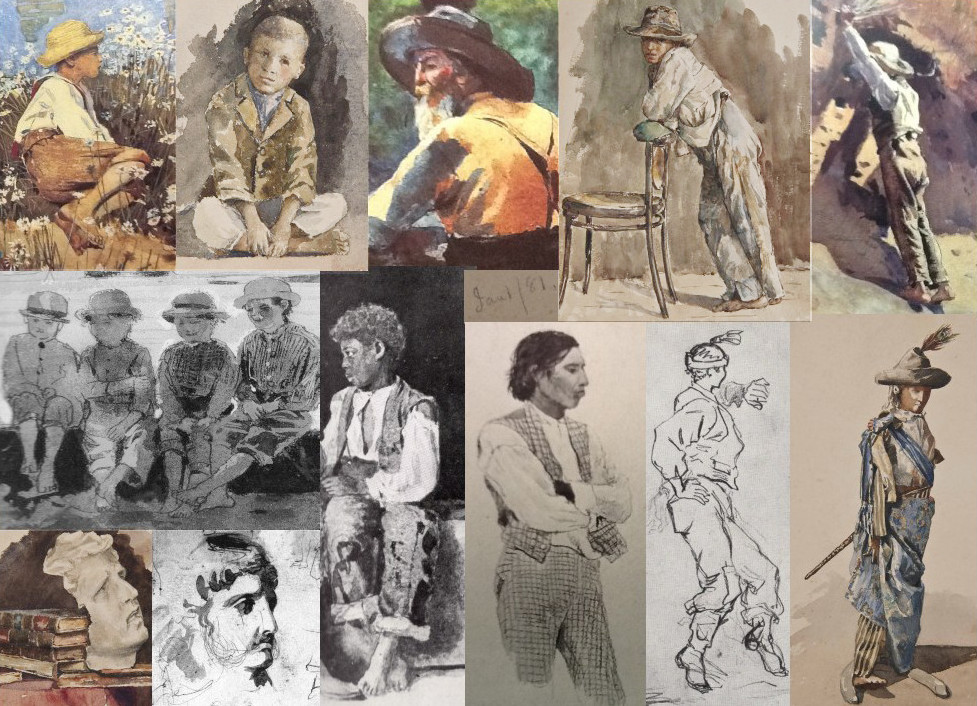 From the contents of several Cambridge, Massachusetts estate sales that were shipped south
seven sheets of unsigned watercolor, two with works on reverse; have been acquired by a North
Florida collector. Initially impressed with the quality of the works he was struck by unmistakable
characteristics and mannerisms indicating the hand of Winslow Homer: relevant pencil notations
further signify Homer's authorship.
At this juncture, the collector melds four of the found works into the watercolor montage above.
Interested viewers are encouraged to isolate the four unsigned works from the eight known works
by Winslow Homer…one of which is also unsigned.
Authentic, yet unsigned watercolors by Winslow Homer are well documented:
Gordon Hendricks's 1972 catalogue of Homer Works in public collections
lists 22 and the new Homer catalogue lists over a dozen more.
Clearly—
Winslow Homer's watercolor brushwork is self-evident:
Signature in itself.
Observe Homer's "Broad flat washes…uncompromising outlines; further note, the artists'
idiosyncratic "appetite for the isolated figure, the search for truth of pose—even at the price of
obvious grace— love of aberrant perspective and
marriage of sharp observation and decorative patterning..."
The preface of the Winslow Homer Record of Works informs us that, "A catalogue raisonne is
never finished – no matter how many years have been devoted to the search for an artists' every
surviving work,
it is always possible that something new will be revealed.
"
While the Homer Canon confirms— "In his own way, Homer is in effect telling us,
that we should
scrutinize his art
for the revelations of his life,
the expressions of his innermost feelings and ideas".
Bridging the canon, with the catalogue; the collector confidently releases the found portrait of the
artists' golden-haired nephew, Arthur Patch Homer, (see montage), born 1876, penciled on reverse
"Sept 1" (1880), an oval portrait of an alluring young Gloucester-Portuguese girl draped in a
black-lace mantilla; arguably his historically illusive "Mystery Woman"*; and an enigmatically
staged one-legged mannequin penciled "Jan 1/81"; definitively, the last work of his first great
watercolor period: Homer sailed for England, on March 15, 1881.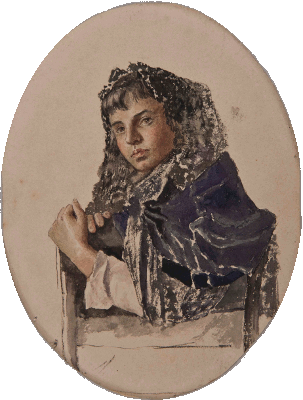 Perceptively, these bona fide private studies – never meant for sale or exhibition,
lost to our knowledge but now recovered, underscore Winslow Homer's absolute prophesy:
"You will see, in the future, I will live by my watercolors."
Paradoxically, leading members of the Homer Establishment/ Catalogue Raissonne who were
contacted were tentative about making definitive judgments and were unwilling to invest time in
hands-on research. From photographs provided, the director stated: "these [works] bear no
relationship to known works by Homer either in stylistic characteristics or quality of execution. And
appear to be the efforts of a fairly advanced student". Another licensee of the Homer catalogue
precluded: "We have already seen everything by the artist" and "The Homer catalogue is closed".
To the contrary—and silencing all critics—the collector supports Homer's concern for his
own artistic legacy —his end-of-life lament:
[that any attempt to catalogue his life's work
would most likely fall short of his complete approval.]
The nine found works are validated by state-of-the-art forensic evidence and high resolution
photography; never-the-less, the collector welcomes prospective new ownership to bring further
expertise. This unanticipated Winslow Homer "archival addendum", secured in Silver Springs,
Maryland is available to the highest acceptable offer.
Accompanying Provenance:
A group of amateur photographic postalcards, (PSTMK Maine 1907) annotating:
"Mr. and Mrs. Homer, out boating" Worthley Pond, E. Peru, Maine; "Mr. Homer's cottage",
"Mr. Winslow's Tent" (!!) and references to the 'Savage" and "Libby" families –
(Libby's Neck Maine was later renamed "Prout's Neck").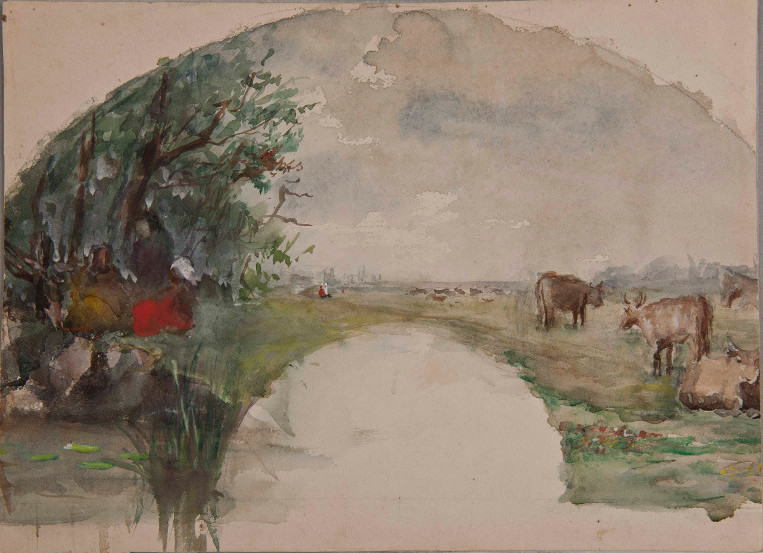 Landscape; Reverse of Youth propped against A Studio Chair;
Links
Contact the collector
Read about Homer's Mystery Woman
More background on the discovery
The collector's notes and observations on the individual works